To show you that we're absolutely professional, care about our clients, create more than just photos (and that we're super fun), here are some honest reviews from our past clients!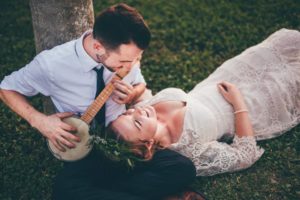 Weddings. Filled with family, hope, new beginnings and a lot of love. Unless you're the bride. Then it's mainly questions, chaos and where did I leave my beer?! That being said, you want to remember and relive that day in the best way possible. Bringing me to my point. The photography. Now, in full disclosure I absolutely fell in love with Lauren and Nicks work but her age and lack of formal education had made me a bit apprehensive to hand over such a large amount of my budget. The more I thought about it the more I realized it wasn't about that. It was about the fact that all of their other work I had seen was exactly what I had been looking for. A trendy, current style. She was very understanding and broke up my payments so it was easier for us. When planning a wedding you always have distractions. Yours might be work. Mine was a 9 month old poop machine. Meeting and speaking with Lauren I quickly realized that this was a part of my wedding I could leave in her hands without worry. Which is a huge relief. Trust me. My next thought on the matter was that you want to have your picture taken by someone you feel comfortable with. Of course the right angels but also the real smile. Not that smile you get when you ask a stranger to take a photo of you and your friends and wonder why it looks like you just smelled a fart but that good honest laughter smile. To capture that amazing wedding day glow. That in mind I invited Lauren to my bachelorette party so she could know the faces of my friends, family and get to know them. So they were comfortable with her as well. She fit right in and everyone loved her.
The wedding day. Lauren was very easily contacted and was quick to reply. She was with me from the beginning. Through the excitement of the morning, my almost panic attack and took pictures of us getting ready. Even of my mom doing a super weird dance trying to make me laugh. Those are memories you should always have documented.  Nick stayed with my (then) Fiance and took the best pictures. Mind you I hadn't had time to clean and the men took over kid duty. He had to work around taking pictures of an explosion of laundry, kids toys and who knows what else. Luckily he totally pulled it off. Perfect groom and groomsmen pictures, sweet pictures of my daughter, niece and nephew and a 'derpy' picture of our sweet dog. Which was awesome by the way. Adam said he liked Nick (which in my husbands cool guy language is a very good thing). She and Nick went to our venue early and took pictures of our table settings and untouched decorations.Which I by the way realized I hadn't even seen since my amazing mother in law put the final touches and met with the florist. One of the times I had met with Lauren we went over a list of family members to take pictures with which very much came in handy. We took pictures outside. In July. In Florida. Very good idea to make that a quick process. My advice is make sure you spend a good amount of time on that list. Lauren brought a few cute props with her for our bride and groom pictures that were perfect. We were very comfortable with her and you can definitely tell. She grabbed us for sunset pictures on the river that turned out gorgeous. The rest of the night they were like ninjas. Taking pictures of the guests, us dancing or trying to dance at least and enjoying the night. Not going to lie. At a certain point I was chugging vodka so you can imagine I wasn't completely there anymore but I do know Lauren and Nick stayed until they felt satisfied with the pictures they had gotten and made sure to say goodbye.
After the chaos. After the honeymoon, opening packages and sending out thank you notes we finally has settled into our lives as Mr+Mrs Adam Beam. Lauren let us know it would be about 3-4 weeks that she would our pictures ready. She posted a few pictures beforehand on Facebook which made me all the more excited to see how beautiful the rest pictures would be. She met me at a local cafe with the cutest packaging, a few prints and a perfectly sized USB. My husband and I decided to make a picture viewing date. Open a bottle of red wine and go through them all. Bringing me back to the beginning. You want to relive that day. That's exactly why hiring a professional photographer is one of the best decisions you can make. You put so much time, effort and planning into your wedding day. We relived that day. I got to see what it was like while he got ready. He got to see the amount of work went into me getting ready. We got to see all the moments of our wedding through the eyes of our guests. The ones that we were too busy to see. His face as I walked down the isle, my father standing next to me and our guests smiling at us as my mother conducted the ceremony. I know its hard to believe as you plan your big day but those are the moments that go by the fastest. The hugs. The smiles. The laughter. The cake. The flowers. The little details you put so much effort into. Our friends dancing and laughing. A moment with my husband and daughter I hadn't even realized was being photographed. These are the moments she captures. This is what your'e paying for. To laugh and cry with the photographs as if you were there. Lauren and Nick were funny, kind, sweet, very easy to work with. I highly suggest choosing them to capture the best moments of your life. I'm extremely glad I did.